From intimate social gatherings to large corporate conferences, let Dave's handle all your event planning.

Call, fax or visit your nearest Dave's location to order your "freshly prepared" party tray!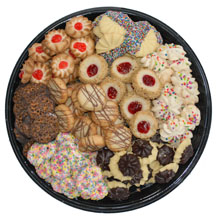 Special Occasion Bakery
(Seasonal Assortment)
Fresh baked cookies will melt in your mouth and with a wide variety, this tray will be enjoyed by everyone.
Small 2lbs. Serves 8-10 $18.99
Large 5lbs. Serves 15-20 $46.99





Homestyle Cookie Sampler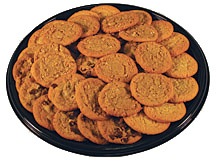 Our sampler is fresh baked, made from scratch using the finest ingredients. Indulge with Chocolate Chip, Oatmeal, Peanut Butter or Sugar favorites!
Small 4 doz. $17.99 Serves 8-10
Large 8 doz. $34.99 Serves 15-20




Gourmet Cookies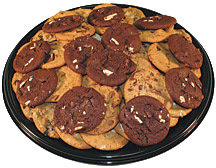 Oversized and luscious to the bite! Our three bestsellers...Chocolate Chunk, Oatmeal Raisin & White Chocolate (with macadamia nuts). Great for any venue!
Small 50 Ct.$19.99 Serves 8-10
Large 100 Ct. $38.99 Serves 15-20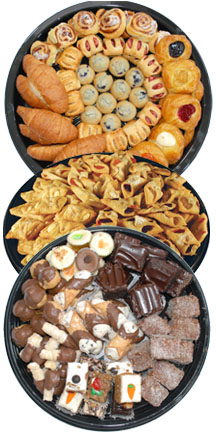 Party Sampler
Your taste buds will wake up with the wonderful pecan tarts, walnut delights, kolachy & bite-sized brownies, cheesecake cups, danish cream horns, mini cassata cake and an assortment of cake pastries & strudels.
Small Serves 12-15 $39.99
Large Serves 18-20 $59.99

Breakfast Brunch Tray
Small Serves 12-15 $26.99
Large Serves 18-20 $39.99

Kolachy Tray
Small Serves 8-10 $19.99
Large Serves 15-20 $39.99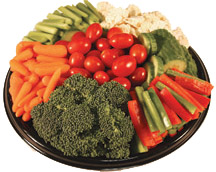 Veggie Nibbler
Dave's always has the freshest produce, and the "nibbler" displays this well. From our crisp broccoli and cauliflower, celery, fresh carrots and grape tomatoes, enjoy it with our favorite dip.
Small Serves 15-20 $35.99
Large Serves 25-30 $59.99


Fresh Fruit Wheels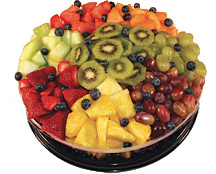 Mounds of seasonal ripened berries, juicy grapes and sweet melon compliment any table. Compliments any meal. A great snack for the kids throughout the week.
Small Serves 15-20 $35.99
Large Serves 25-30 $59.99
Jumbo Serves 30-40 $69.99




Cheese'n Crackers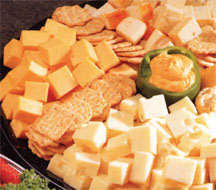 Either as host or guest, our cheese trays are the most popular! Cheese & Crackers, a great appetizer comes with generous portions of American, Swiss, Muenster, Cheddar & Colby - and garnished with an assortment of wheat, rye & butter crackers.
Small Serves 15-20 $49.95
Large Serves 25-30 $69.95

Cheese'n Fruits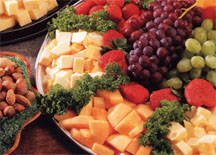 Combine the same great cheeses from Cheese & Crackers, coupled with fresh seasonal fruits and this tray is a certain crowd pleaser!
Small Serves 15-20 $49.95
Large Serves 25-30 $69.95


Deli Fixins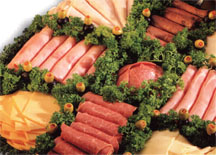 Fresh baked loaves of bread, sliced and ready to top it off with your choice of meats: Hard Salami, Roast Beef, Turkey Breast, Bavarian Ham & Corned Beef! With a variety of cheeses: American, Swiss and & Muenster...your meal is set. (Please order in advance - Minimum 10 people)
$6.99 per person
Fried Chicken (by the piece)

Dave's starts with fresh, tender Perdue Chicken, dipped in our own blend of herbs & spices and prepared with 0 trans fat free oil! Delicious!
50 Pieces
75 Pieces
100 Pieces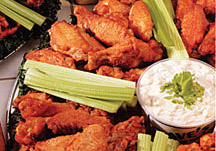 Wing Ding Platter
An "ABSOLUTE MUST" for any sports event, party or any occasion! Mild or Hot.
Small 50ct. Serves 8-10 $45.95
Lrg. 100ct. Serves 15-20 $65.95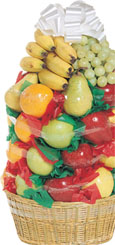 Fresh Fruit Baskets
A plethora of delicious seasonal fruits and perfect for any occasion!
Starting at $12.99




Jumbo Shrimp Tray
A natural crowd pleaser, this tray of 2 pounds of fresh shrimp, displayed nicely, will entice everyone. Perfect for small or large gatherings!
2 lbs. 31-40 pcs. Serves 20-25 $39.99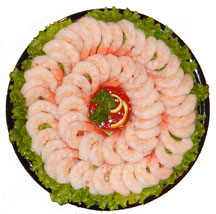 Super Size Shrimp Tray
For those extra large gatherings or your corporate event, the "Super Size Shrimp Tray" is just for you. Fitting 4 Lbs. on our sizeable tray, we peel and devein the shrimp, ready to serve!
4 lbs. 150-160 pcs. Serves 40-50 $79.99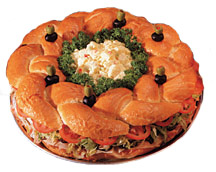 Euclid Beach Carousel Sandwich
Open wide and say "aahhhh...with roast beef, turkey, ham, swiss cheese, lettuce and tomatoes, our homemade braided carousel bread makes for a hearty meal! This is our top selling sandwich. Combine it with Daves own mustard based potato salad and your taste buds will be soaring!
Serves 10-20 $59.99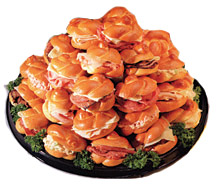 The Terminator
If you like them stacked high, these "50 sandwiches" are ready to do the job. For games, corporate lunches and just good old fashioned "family gatherings" these sandwiches are made of roast beef, turkey, ham, corned beef and cheese placed between "fresh baked" homemade knotted rolls. Add some chips & a beverage and you've got the makings of a great party!
50 ct. $69.99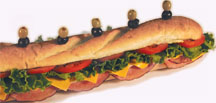 Terminator II
Our "overstuffed" 2 foot sub, freshly made and serves approximately 10.
$19.99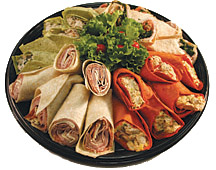 Wrap Trays
A great "healthy" and "inexpensive" addition for any party. Cut into halves for perfect finger food. Choose your favorite flavors: Buffalo Chicken, Caesar Chicken, Italian, Tuna, Turkey Club or Mediterranean Veggie.Minimum 5 people.
$4.99 per person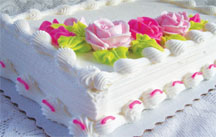 Fresh Baked - Custom Made Cakes!
First class cakes at affordable pricing for that big event! From traditional to totally fun, our cake designers are second to none! Daves cakes are fresh baked at the store of your choice. A full sheet cake serves approximately 100. Or order a smaller size, quarter or half sheet. Come in and talk to our cake designers for specialty and theme oriented cakes. Prices vary with size and design, call for details!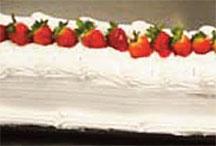 Cassata Cakes!
Quoted prices are for the basic cassata cake, including flowers. Additional charges may be added based on specific customers' request. Call your store for pricing.



8 Inch Double Layer - (Serves 6 - 8)
1/4 Sheet Split Layer - (Serves 10 - 12)
1/4 Sheet Double Layer - (Serves 12 - 16)
1/2 Sheet Split Layer - (Serves 20 - 24)
1/2 Sheet Double Layer - (Serves 22 - 30)
Full Sheet Split Layer - (Serves 40 - 48)
Full Sheet Double Layer - (Serves 44 - 60)
Prices subject to change - please check with your store to confirm pricing.